Dunk Tank Rental Cincinnati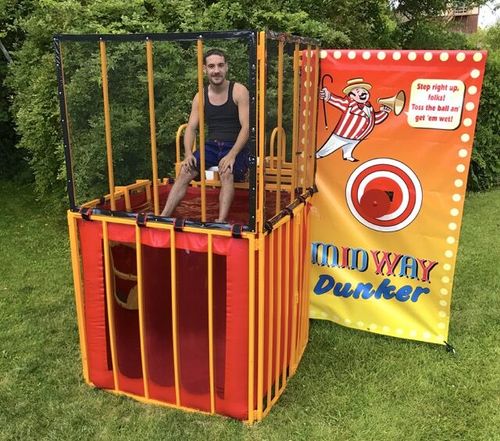 We have brand new dunking booths for 2019!
When it comes to the best dunk tank rental Cincinnati has to offer, Party Go Round has you covered. All brand new, our dunk tanks are the latest and greatest and are sure to make a HUGE SPLASH at your next party or event. Are you having a school function? Dunking the principal is a time honored tradition. How about soaking the boss or co-worker at a company picnic? Dunk tanks have provided fun for the last several decades. Also, they are a great way to generate revenue at a fundraising event. Charge per ball or 3 balls for a certain amount. There will be a line around the block for attendees to test their skill with these great dunking booths.
Book your dunk tank now!
Here are some other items you may like.
When looking for the best dunk tank rental Cincinnati has to offer, turn to the experts at Party Go Round. If you'd like a chance for all your co-workers to dunk the boss at a company picnic, students getting their teachers soaked at a school carnival, kids dunking their friends at a birthday party, dunking booth rentals can be enjoyed at any type of event. Party Go Round takes great pride in providing the Cincinnati area with an unmatched level of customer service and satisfaction that simply can't be matched by any other event rental company. With so many great options to choose from for keeping your guests cool in the hot summer months, we're sure you'll be able to find just what you're looking for. From the best water slide rentals Cincinnati has to offer, to dunk tank rentals, all the way to our 30' Slip 'n Slide. The traditional tank features a large window in front, so spectators can watch as the dunked individual falls into the water. I'm sure we would all love to see someone we know sitting on the dunk tank seat, getting ready to get completely soaked in the dunk tank. Our dunk tank rental is perfect for any event you can imagine. Churches, schools, company picnics, fundraisers and other events are the perfect opportunity to have a dunk tank rental. Also, our dunk tank rentals come with everything you'll need to have a wonderful time, including balls and backdrop.
If you're looking for a way to cool off in the hot summer months, nothing beats a dunk tank rental in Cincinnati Ohio. At Party Go Round, we can provide you with a top quality dunk tank to rent for any occasion. Dunk tanks are great for parties, charity events, and fundraisers. You don't need a special event for a dunk tank rental in Cincinnati Ohio though! Rent one out to give your kids something new and fun to enjoy. Dunk tanks are great to use during the hot summer months and they have a variety of benefits.

Beat The Heat

Dunk tank rentals in Cincinnati Ohio offers a great option for beating the summer heat. Whether the kids are out playing or you're hosting a summer party, a dunk tank should be part of the activities. What could be better than taking a dunk into cool refreshing water?

Fun for The Kids

Dunk tanks are not something that everyone has in their back yard. Renting one out gives your kids something unique and fun to do while keeping cool. Giving the kids a chance to dunk their siblings, friends, or even their parents can offer loads of entertainment.

Great for Socialization

Kids develop through social interactions with other kids. Having a dunk tank acts as an icebreaker and gets kids talking, laughing, and dunking! It offers them a great way to make new friends.

When you choose a dunk tank rental in Cincinnati Ohio, you want to make sure you are getting the best quality equipment that is safe for everyone to use. Here are some things you need to consider when renting a dunk tank.

Safety Guidelines

Any good rental store should have safety guidelines and be installed in a safe area. Party Go Round has its own set of safety guidelines that are given to each customer. We also offer free delivery and setup. We will set up your dunk tank in the best spot possible to ensure proper water runoff and safety.

Insurance Certificate

We keep our equipment clean and in top shape to meet all safety standards. We also are insured against any potential accidents that may occur when using our dunk tanks.

Supervision

It goes without saying that any activity should be supervised by an adult. We do offer a supervisor for a minimal fee to help organize the use of our dunk tanks. This way, they can make sure the tank surface area remains clear and assist anyone who is being dunked.

If you're planning a summer party, event, or fun weekend for the kids, you should consider a dunk tank rental in Cincinnati Ohio. It's something that everyone can enjoy and it can be used for a variety of occasions. Party Go Round works to make all of their customers happy with their rentals. We are fully insured, state inspected, and our equipment is highly maintained to ensure safety and an enjoyable experience. If you're looking for a top quality dunk tank rental in Cincinnati Ohio, give us a call today!
Click below for the best dunk tank rental Cincinnati has to offer and more items.
Sorry, this item is not available either because the particular order options (customer pickup) are not available for this item or because the date and/or time you have selected are not available. If you have any questions, please call our office at (513) 570-5383...