Our Toxic Meltdown Is Awesome!
THE HOTTEST GAME OF THE YEAR!
The toxic meltdown inflatable rental is the hottest game of the year and taking the world by storm. If you are looking for an extreme ride for your next event look no farther! Inspired by the television show "Wipeout", The Toxic Meltdown is a huge hit. The goal of the game is for players to avoid being knocked off their pedastals as the two mechanical arms swing round and roung. Players have to try to stay standing on their pedistal without falling off while the two arms spin. Players duck under the higher arm and for more of a challenge, leap over the lower arm. Once you fall or get knocked off, you move to the back of the inflatable and the last one standing is declared the winner. To keep it interesting, the arms also change direction. This game is the hottest thing going right now, and kids and adults alike will be lined up around the block to test their skills. Party Go Round provides an operator that is fully trained and qualified to safely operate this ride. Bring the challenge and excitement of the Toxic Meltdown to your next event. This game is also perfect for fundraisers, school functions, corporate events and more.
Toxic Meltdown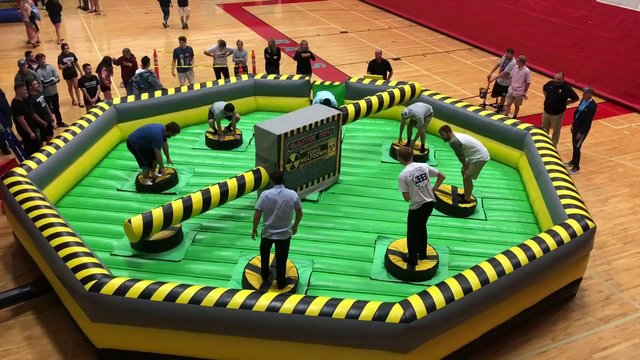 $1,500.00
Please call to reserve this item.

Available Booking Options
Up to 6 Hours

Displayed Price

7-10 Hours

+15%

Overnight
(Picked up after 7:30am)

+30%

Weekend Special
(Fri before 2pm - Sun after 4pm) or
(Sat before 12pm - Mon after 12pm)

BEST DEAL

+50%