Planning The Perfect Party For Kids
Throwing a party can be quite a tough job; however, it gets even more complex when it is meant for kids. Birthdays are incredibly important milestones for kids, so it's no surprise that they want everything to be absolutely perfect. As parents, we realize that giving your child the moon and the stars isn't always possible, but hopefully we can help alleviate some of the stress by helping you develop a plan.

It is also important to think it from a child's perspective as the primary guests will be children. Fun things like bounce houses, water slides, cotton candy machines and more are available for rent and you can easily book online at Party-Go-Round.com.

Pre-planning is the first thing to do, as you will need to fit everything into your budget while also making sure the kids are happy. It is necessary to ask your children about the theme and the kind of food and games they would like at their party. Make a to-do list, a shopping list and arrange the particulars of the party. For a fun super hero theme, we have a Justice League Bounce House for rent. If your child prefers a princess theme, a perfect fit would be our Wet or Dry Princess Double Lane Combo Bounce House for rent in Cincinnati. These types of party rentals have become very popular over the years.

Making and sending an invitation list is the next step. As kids are accompanied by parents, you will need to make sure you have adequate seating. It is always polite to ask the guests beforehand if any parents will be attending the party with the child. Party Go Round offers tables and chairs as well as tents.

While many parties take place at home, that's not always the case. One thing to consider is the option of choosing a venue. Make sure the venue is secured well in advance, as they often book up early. There are several parks in the Greater Cincinnati area, and Party Go Round is proud to be on the preferred list of vendors for many county parks in the area. Just make sure that the park does allow bounce houses. Some other great ideas of where to host your party are churches, school gyms and even recreation centers.

Food is an essential part of any party as it keeps everyone happy. No party is complete without some of the great staples that we have all known and loved for man years. Whether it's cotton candy machines, popcorn or sno cones, concessions are a must at a kids party as children have quite a sweet tooth! However, it is also polite to ask the parents about any diet restrictions that their children may have.

Most great parties involve a theme of some sort. There are lots of great places online to get ideas for creating the perfect theme party without breaking the bank. You probably already have a good idea about your child's choice of theme, but you may want to double check as kids are constantly changing what's cool and what is "so last week". Make sure to get all your supplies in advance. There's nothing worse than having to run around the day of the party to secure all your last minute essentials. No need to fret about extra seating, though. Party Go Round is happy to help you with tents, chairs and tables. We can also provide all the supplies for our concession rentals, including cones and floss sugar for our cotton candy machine rental.

Activities are a must have at any parties for kids. Bounce houses provide hours of entertainment for children of all ages. They come in an array of designs, sizes and styles. Looking for bounce house rentals in Cincinnati or water slide rentals in Cincinnati? Your search ends with us! Other great food and fun activities include popcorn machines, obstacle courses, soccer darts and more.

As mentioned earlier, thanks to the internet, you can easily arrange for your next kids party. We at Party-Go-Round.com are proud to offer easy online reservations through our website. Book your next kids party any time, day or night. What are you waiting for? You have all the tools right at your fingertips for Planning The Perfect Party For Kids!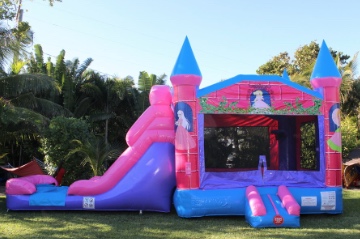 Princess Theme Combo Bounce House
Click the button below to check out our Princess Theme Combo Bounce House!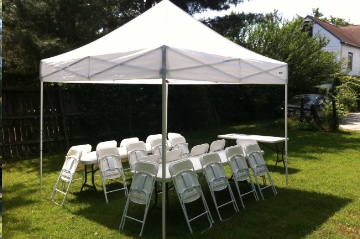 Tents, Tables & Chairs Available For Rent
Click the button below to reserve your tents, tables or chairs now!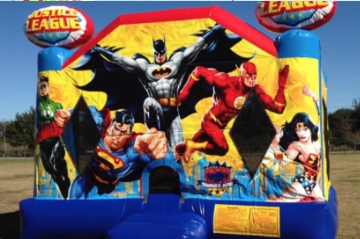 Justice League Theme Bounce House
Click the button below to see our Justice League Theme Bounce House!