The Best Birthday Parties In Cincinnati
See how stress free a birthday party can be!
For the best birthday parties Cincinnati has to offer, look no further than Party Go Round. Let us show you how much more enjoyable a stress free party can be. Thanks to our convenient online reservation process, all you need to do is point, click and reserve. We'll handle the rest. Simply choose the date and time of your party, select the items you'd like to reserve and proceed through the checkout process. A member of our team will contact you 24-48 hours prior to your event to schedule the delivery time. Also, don't worry about inclement weather. We offer a full refund of your deposit or you are more than welcome to reschedule. Upon arrival, we will set up your equipment, provide you with the safety guidelines and we will be there to pick up after the party is over. Click below to check availability for the date of your party, or feel free to browse our categories below.


Get The Party Started! Product Name
$0 Product Name
$0 Product Name
$0 Product Name
$0 Product Name
$0 Product Name
$0 Product Name
$0 Product Name
$0 Product Name
$0 Product Name
$0 Product Name
$0 Product Name
$0
The Most Memorable Birthday Parties In Cincinnati
Planning a kid's birthday party in Cincinnati can be challenging to say the least. Not only do you have a laundry list of demands by your kid, but all of that needs to be weighed against a strict budget. After all, as a parent, you don't want to strapped for cash after the party! Whether it is your kid's first birthday or their sweet 16, you have a myriad of choices at your disposal, especially when it comes to party rentals. But which one is the best?

At Party Go Round, we have been the party rental service of choice for many homes and business owners for over a decade. We've transformed regular kids' birthday parties into memorable, magical moments, which are remembered to this day. That's why whether it is a sweet 16, or your kid turning one, we can help you. Call our birthday party experts, and we'll be happy to walk you through the best options based on your budget.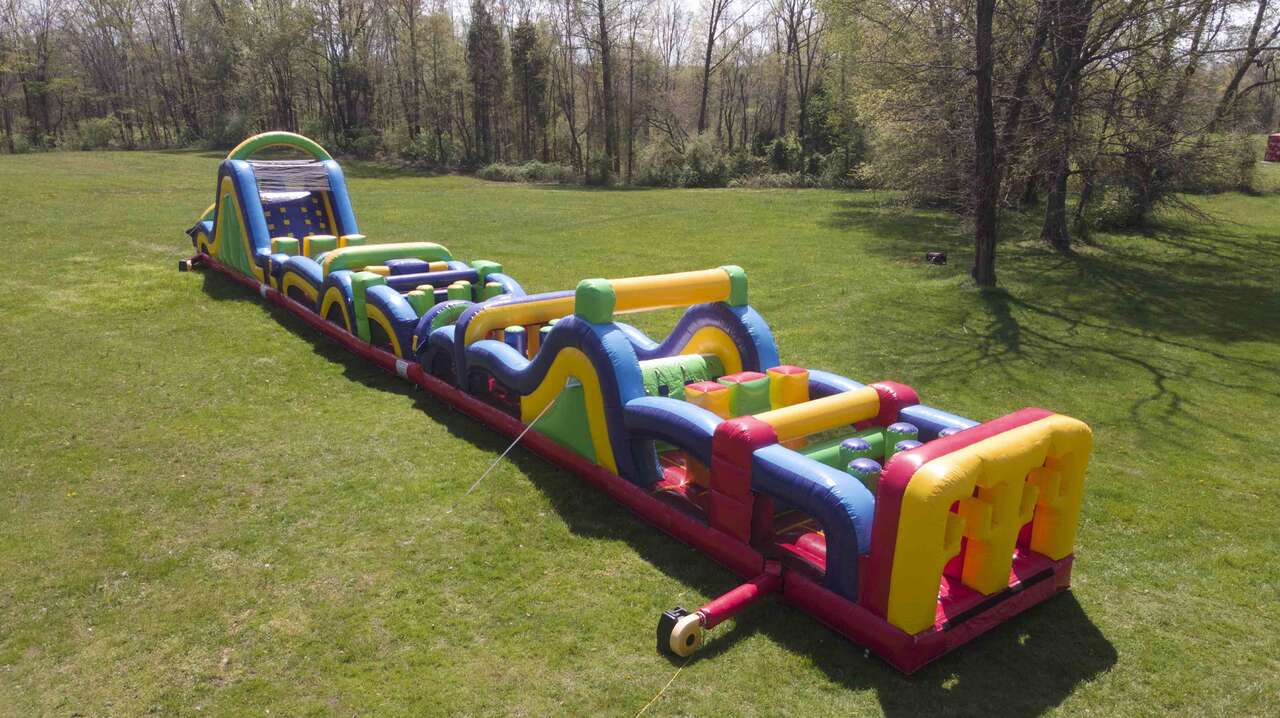 We Eliminate Much of the Hassle Associated with Planning A Birthday Party in Cincinnati
One of the biggest hassles and something we've seen many parents are planning their own parties get wrong is choosing the right theme. Unfortunately, many parents may be slightly behind the times when it comes to choosing a theme for the birthday party. The wrong theme can often mean that the party does go as planned, not to mention you might have some very unhappy kids to contend with.

Whether it is a private party room for your kid's birthday or a room in your home, we can ensure that it is transformed using a theme that your kids will enjoy. We have a great deal of experience planning and working with parents to choose the right theme for the party. That's why we have a fairly good idea of what your kids will love depending on their age and what's hot.

We can also help you choose the right set of inflatables, concessions, tables and chairs for the party, amongst other things. In fact, we have the largest selection of party games, some of which are the latest and greatest guaranteed to keep everyone happy.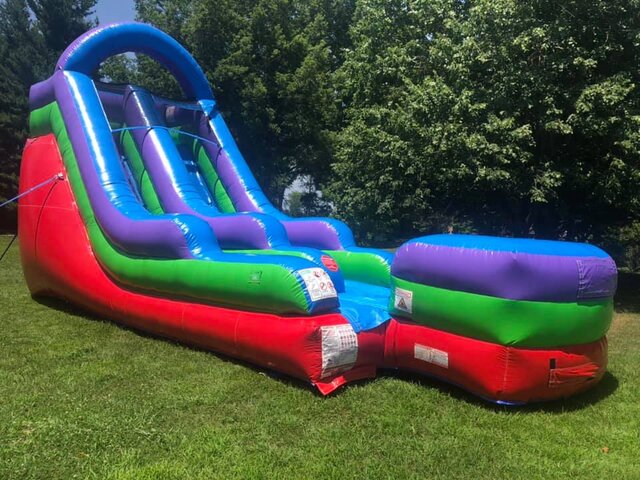 We Can Setup A Birthday Party Anywhere
Whether it is a trampoline park in dr Westchester or an indoor playground, our team has you covered. Not only do we deliver everything you hire anywhere, but our team is responsible for setting up the equipment too. In fact, some of our team members, depending on what you hire, will stay back just to make sure that everything is functioning safely.

We work with parents and party planners to set up inflatables, water slides, dry slides, tables, chairs, tents etc., in the right places. However, if you have no idea what will work best, our crew will decide on the optimal placement for everything on their own and trust us when we tell you our team has been doing this for years! So, your kids' party is in very good hands.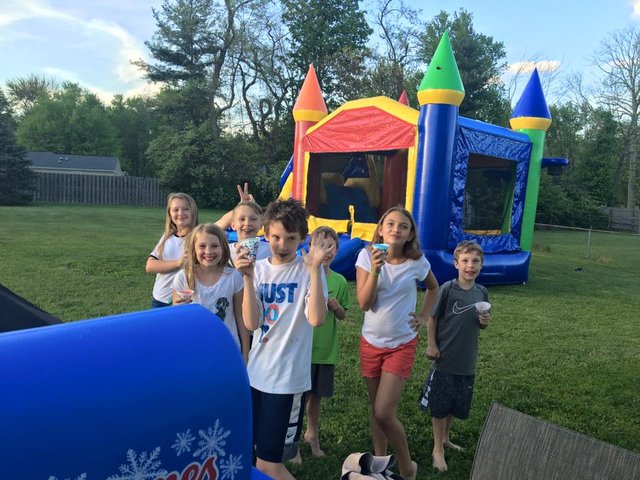 We Have Lots Of Birthday Party Packages
We know that like every kid is different, so is every birthday party. You simply can't have the same type of birthday party every year, and the same can be said for every kid. The good news is that we have a multitude of birthday party packages. Whether you're planning a party outdoors in the backyard, perhaps a large venue because you're expecting the extended family to attend or even if it's in your guest room, we have the right package for you.

You can choose from many different packages, including inflatables, water slides, jump houses, mascots, candy floss machines etc. Each package is also perfectly suited for a certain type of budget and the kids' age at the party. That said, if none of our packages tickle your fancy, we can always set you up with a custom package. The custom package will carry just about everything you need, customized to your needs and what your kids will enjoy.

Need to customize a party package for your kid's next birthday party? Call our team in Cincinnati, OH, today, and we'll be glad to help.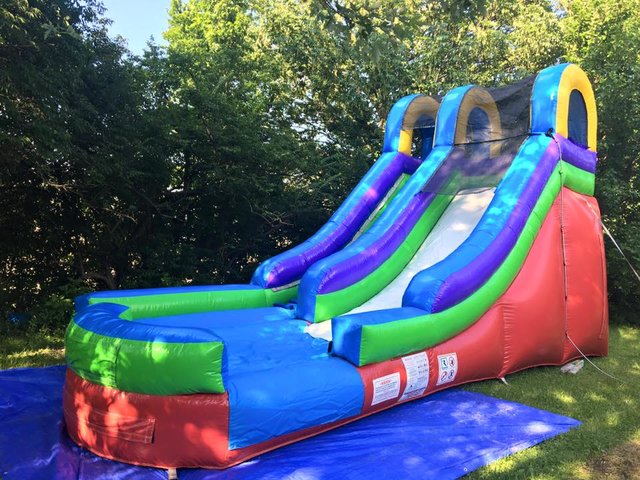 Competitive Pricing that Will Save You Money
A birthday party package does not have to break the bank. In fact, regardless of the theme you decide on, we strongly believe it should be affordable. That's why, unlike other party rental services, our prices are incredibly affordable and competitive. We've worked hard over the years to make sure that our clients can save money by benefitting from the value we have to offer. Whether it is laser tag, jump houses or a candy floss machine, we make your birthday party experience memorable and affordable.

We can also tailor what you need depending on the size and type of party room. Our team will make sure that everything is set up for the birthday party ahead of time. What's more, we set up most items like a water slide, trampoline and inflatable jump houses at no extra cost. That's why you don't have to worry about hidden costs or charges when working with us. In fact, the costs or charges you see are inclusive of everything.

If you have a question about our party packages, our team is available during regular business hours over the phone and will gladly help you.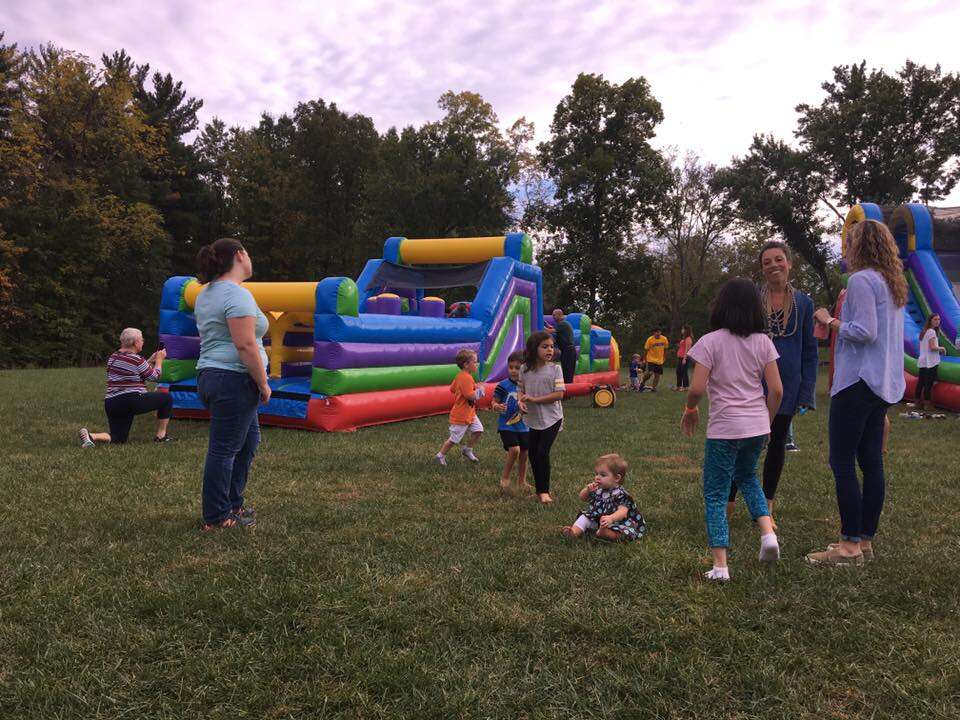 Entertainment is A Top Priority For Your Guests
What do most people and kids, in particular, want to do at a party? Sure, food like cake, pastries, pizza, maybe a rock-climbing machine does help keep older kids entertained, but what about younger children? The biggest mistake you can make is not planning for younger kids at the party.

Fortunately, when it comes to keeping young kids entertained, we have loads of stuff to choose from, and they don't take up that much space either. Plus, they are available to match the theme of your party.

We got furry animals, inflatable bounce houses for young kids, inflatable water slides and a few other things that will turn your venue or room into an indoor playground. Plus, we have professionals who will make sure that everyone is safe during these activities.
At Party Go Round, we have been the service provider of choice for many parents and those organizing commercial parties. We've been responsible for setting up birthday parties in homes, parks, and dedicated venue spaces. Furthermore, we've also worked with businesses delivering equipment, toys, games, and activities as and when needed. In fact, our equipment has been used in some of the most popular fundraisers and charity events in the city.
Most of all, people trust us to deliver on the quality we promise. However, here are a couple of more reasons to choose our party rental service:
We Have A Huge Inventory - You don't want your kid's birthday to be limited to what we have. In fact, we should have more than enough items which cater to your needs. Fortunately, our vast and growing inventory of items for rent means you never have to settle for less than what you have planned.
All Items are Closely Inspected Before Delivery – Whether your party is in Cincinnati or Westchester, OH, we make sure to closely inspect all items prior to delivery. We make sure that the items about to be delivered are clean, 100% safe to use and without defects. It is only then that it gets scheduled for delivery. If we find an item not up to our quality standards, it is replaced right away. Having a large inventory allows us to easily swap items we find issues with so that you don't have to compromise on the items delivered.
We Have a Qualified Team – We don't leave setting up the items our clients hire to them. Our team handles all the heavy lifting (quite literally) so that you don't have to. In fact, it is part of the service we provide. Once the birthday party is over, our team will remove everything from the venue or your property, which you don't have to worry about.
Competitive Pricing – We make birthday parties in Cincinnati special without it costing you a lot of money. Our competitive pricing ensures that you save money while enjoying your kid's birthday party.
Excellent Customer Service – We are proud of our customer service professionals who use their years of experience to help clients ensure their party is memorable. That's why regardless of the size or type of party, our team has your back.
No Party Too Big or Small – The size of your party does not matter to us because our goal is to ensure everyone is entertained. We have more than enough items for any size birthday party and to ensure that your guests have a great and memorable time.
Want to discuss your party? Want to hire multiple party items or have a special request, then call us today.
The Best Birthday Parties in Cincinnati: Where to Celebrate Your Big Day!
Ahh, birthdays - a day of celebration! Is there anything better than having your own special day to carve out from the monotony of the year to commemorate your existence? Whether it's your little one's first birthday or your own 21st, a great birthday party should always be filled with joy and memorable moments.

But what if you live in the Cincinnati area and you don't know which venues to choose for a birthday bash? Fear not, fellow bi-staters! In this post, we're calling out the best places to call for your big day throughout the 'Nati. From indoor playgrounds to laser tag arenas and more, we'll cover it all. So read on and get planning - the ultimate birthday party in Cincinnati awaits.
Quick Summary
There are many venues in Cincinnati that offer birthday party packages, such as amusement parks, bowling alleys, and local restaurants. Research and compare different locations to find one that best suits your needs.
Plan a Memorable Birthday Party in Cincinnati
Planning a memorable birthday party in Cincinnati can be an exciting and rewarding task - but it can also be daunting. There are many factors to consider, such as the type of celebration, catering options, location, and entertainment. To ensure guests have a great experience and that the event will truly stand out for years to come, you must plan carefully.

On one hand, many believe that the best way to ensure your birthday party stands out is to plan something unique or out of the ordinary. This could mean hiring a professional entertainer, trying a new type of cuisine, or finding an uncommon venue that's not normally used for parties. On the other other hand, some may argue that going the more traditional route — like a backyard barbecue, pool party or pizza night — is a better option because it eliminates unnecessary stress and ensures everyone will feel right at home. Ultimately, either direction could work depending on your birthday person's wishes and preferences; it's up to you to determine which method is best for your special occasion.

When determining which type of gathering you want to host, make sure you take into account budget constraints and any time limitations that may exist before making a final decision. By taking these factors into consideration ahead of time, you can make the planning process easier from start to finish.

No matter which route you decide to take when planning your birthday celebration in Cincinnati, it's important to consider the atmosphere of where you'll be doing your entertaining. From there, you can choose from a variety of creative locations – like parks, dance halls, pubs or game centers – to round out your plans and leave guests with memories that will last far beyond your special day. Now that we've covered some tips for how to plan an enjoyable birthday party in Cincinnati, let's move on to our next section and discuss where would be the perfect place to celebrate!
Location Ideas for Birthday Parties
The location of a birthday party is one of the most important aspects to consider when planning a memorable event in Cincinnati. Many party-goers look for a unique and creative atmosphere to celebrate their special day, while others opt for more traditional venues that focus on convenience and affordability. The great news is that Cincinnati offers an array of unique and affordable spaces to suit any taste.

For those looking for an intimate, yet unique setting, Cincinnati's numerous wineries offer some of the most scenic spots for hosting private events. With sprawling vineyards and gardens, these facilities provide breathtakingly beautiful backdrops for any special occasion—and unforgettable memories that will last a lifetime. On the other hand, a more affordable option may be found at restaurants or catering halls, which are accessible and often equipped with all necessary elements for hosting a successful event. These menus can usually be customized to fit your budget as well. No matter what kind of atmosphere you're in search of, Cincinnati provides plenty of perfect locations for memorable birthday parties.

Once you've chosen where to host your iconic event, the next step is to choose décor that will set the stage while creating a celebratory atmosphere. While decorations don't have to break the bank to make an impact, using the right combination can really tie your celebration together. So keep reading to learn about easy and inexpensive decorating ideas that will help make your birthday bash one to remember!
Decorating Ideas for Cincinnati Birthday Parties
When it comes to throwing a memorable birthday party in Cincinnati, selecting the perfect decorations is just as important as picking the ideal venue. It isn't enough to simply purchase balloons and streamers; meaningful touches and thoughtful personalized details are what make a party special.

One of the best ways to bring your birthday vision to life is through custom signage and banners tailored specifically to the person whose day it is. Have fun with this—from "Happy Birthday" signs to hilarious puns, you can create captivating wall hangings or photo backdrops that will make your photos truly stand out.

Don't forget about cake decorations! Some local bakeries specialize in unique fondant pieces for cakes, like personalized figurines and edible prints. This is a great way to provide a personal touch for any occasion, including birthdays. You can even have them add a mini replica of the birthday venue or theme for an extra-special surprise.

Another stunning decorative option is swag bags or gifts for guests. From customized jewelry pieces to shirts printed with their favorite quote or hashtag, use this opportunity to show your guests how much you appreciate them coming out on such an important day.

No matter how you decorate it, keep in mind that the most important factor of any birthday celebration is making sure that your guest of honor feels valued and respected on their special day. By adding personalized touches here and there, you can create a lasting memory in Cincinnati that they'll never forget.

Now that we've discussed decorating ideas, let's turn our attention to activities—how can we ensure kids' birthday celebrations are packed full of fun?
According to a 2018 survey, 65% of families in Cincinnati plan to celebrate their children's birthdays with a special activity or event.
The average amount spent on birthday party activities in Cincinnati is estimated to be $161 per celebration.
Approximatley 57.3% of all birthday parties in Cincinnati take place at indoor venues such as restaurants, bowling alleys, and arcades.
Crucial Summary Points
When throwing a birthday party in Cincinnati, it is important to create personalized, meaningful decorations that make the day special. This can include custom signage and banners tailored to the person whose day it is, decorations from local bakeries like edible prints, swag bags or gifts for guests such as shirts printed with their favorite quote or hashtag and ensuring that the guest of honor feels valued and respected on their special day. Lastly, activities must be planned to ensure kids' birthday celebrations are packed full of fun.
Fun Decorating Ideas for Kids' Celebrations
Decorating a birthday party may feel daunting, especially if you're decorating for a young child. Fortunately, you don't need expensive or intricate decorations to make your Cincinnati birthday celebration a success. Furthermore, some of the most fun decorations can be made by the birthday boy or girl with a little bit of creativity.

For an especially fun party atmosphere, consider creating DIY decorations. This is a great chance to get kids involved, as they can assist in making all sorts of decorations like paper banners, tissue paper flowers, and origami figures. Customized cardboard centerpieces that feature the birthday boy or girl's name, age and even your location in Cincinnati can easily be put together at home. Additionally, balloons are always a festive decoration that can be made into shapes, letters and life-sized objects like animals.

Whatever decorations you choose for your Cincinnati birthday party should always be tailored to your type of celebration and age group. With the right amount of creativity and flexibility, you can turn any occasion into an unforgettable event filled with small details that guests will truly appreciate. Now the focus transitions to entertaining activities and games that can make your birthday party even more special. From classic pinatas to high-tech game stations, there are countless ways to keep your attendees entertained throughout the big day!
Entertaining Activities and Games for Cincinnati Birthday Parties
Birthday parties in Cincinnati go beyond decorating the venue and providing food. It's important to have activities and games that keep guests entertained and engaged. Whether you're hosting a party for adults or children, having fun activities is essential to creating a memorable event.

For kids' birthday parties, many parents opt for age-appropriate activities, like scavenger hunts and sports games. Of course, not every kid enjoys active games so there's still plenty of options for more laid-back celebrations. If the party is centered around a certain theme, like superheroes or princesses, you can create crafts or games that are specific to that theme. Or if your child is more into art, painting supplies can be set out and everyone can create a special project to take home with them as a memory from the day.

For adult-focused birthday parties, you may want to get a little more creative with games and activities. Modern party trends bring classic boardgames into the mix like life-sized versions of Connect Four or Jenga. There are also popular interactive activities like shuffleboard lanes and virtual reality stations that guarantee hours of fun for all ages.

To break the ice at any kind of birthday celebration, there's nothing better than a team game or contest with plenty of laughs involved! Keep it simple with a karaoke competition, or go big with an obstacle course run or challenge race – just make sure it matches the level of energy of your guests!

No matter what type of entertaining activity or game you plan on incorporating into your Cincinnati birthday party, making sure there's enough to keep everybody busy is key! The sky's the limit when it comes to celebratory fun, but if you need further ideas there are plenty of local entertainment companies who specialize in providing unique birthday party experiences. Now it's time to explore the options for taking things up another notch by exploring local entertainment options for family celebrations.
Local Entertainment Options for Family Celebrations
For family celebrations, there is no shortage of local entertainment options in the Cincinnati area. One option is to hire a band or live musician for a day full of music and dancing. Live music adds an extra element of fun - it can be tailored to the age and tastes of the guests and will always keep everyone having a good time. Local DJs are another great entertainment option for Cincinnati birthday parties. They bring their own equipment and offer their mixes to keep your guests on their feet and in high spirits throughout the night. They also have great lighting set ups that add an extra layer of ambiance and excitement to any event.

For those who want a more karaoke-style experience, consider hiring a karaoke DJ - they usually come prepared with thousands of songs and speakers, as well provide microphones if needed. Other options include circus acts, magicians, balloon artists, clowns, face painters, stilt walkers, jugglers, caricature artists - all these activities can add fun to a family celebration and provide memorable experiences for everyone.

Having professional entertainment at your party can make the event much more enjoyable for both children and adults alike - it's always something special when you can leave memories behind of a unique experience that wouldn't typically be part of everyday life. While there are countless entertainment choices for birthday parties in Cincinnati, having local expert performers elevates the atmosphere of any event with their professionalism and skill.

Now that we've discussed entertaining activities for Cincinnati birthday parties, let's transition to gifts - what presents could make someone feel special on such an important day?
Ideas for Presents for Birthday Parties in Cincinnati
If you're looking for ways to keep your party guests entertained and happy, presents are one of the best options. Giving presents on a birthday lends to the feeling that this is a special day that should be commemorated and celebrated.

When it comes to choosing a type of presents for your guests, you have plenty of options depending on the people attending your celebration. If it's a family affair, you might consider something decorative or crafty, like an arts and crafts kits that can be enjoyed together at home. This gift will not only provide entertainment and joy during the birthday event but also create memories for years to come. Game sets are also popular among family-oriented parties; they are both fun and engaging.

It's important to remember there's no one-size-fits-all solution when it comes to presents. Depending on the age group at the party, consider gifting items such as electronics, clothing items, books or accessories. These types of gifts are sure to please any recipient regardless of their age or interests as long as they fit within your budget plan.

Once you've chosen the perfect present for your occasion, start planning how you'll distribute them and make sure all guests leave with something in hand – otherwise, you'll likely find yourself in an uncomfortable situation! With thoughtful and cleverly chosen presents in hand, let everyone take home a token of your appreciation - a little reminder of how much they were cared for at your Cincinnati birthday event.

Now that we've covered local entertainment options and ideas for presents, it's time to turn our attention towards another important aspect of planning a successful birthday celebration - making sure everything else runs smoothly. From scheduling down to deciding how many guests will attend and what food will be served; making sure each detail is accounted for before the big day arrives is paramount.
Planning the Party in Cincinnati
When planning a birthday party in Cincinnati, the possibilities are endless. To ensure that the event is an unforgettable one, it is important to first think about the guests of honor and their personality and desires. From there, deciding on the location, decorations and other party details should come easily.

When searching for potential venues, it is important to consider how much space will be needed for any activities and if enough room is available to properly social distance. Restaurants or banquet halls are ideal locations that also provide catering services as well. Parks or outdoor spaces offer a fun, relaxed atmosphere while still being able to maintain safety protocols. Additionally, bring the party indoors by renting out a hall or space at home.



No birthday celebration is complete without decorations! Create a festive atmosphere with streamers, balloons, and banners that match your theme. Choose colors that best represent the guest of honor, such as baby blue for boys or lavender for girls. If necessary, rent props like tables and chairs and linens to enhance the look of the room even more. Additionally, give each guest party favors like small mementos or food items so they can remember this day for years to come.

After choosing the location and decorating up the space, it's time to choose some entertainment. Hiring a dj or musical artist can turn your event into a memorable experience. Include some classic games like charades and pin the tail on the donkey for added amusement or opt for something interactive like karaoke or a scavenger hunt. Crafts like making personalized picture frames are another great way to keep guests of all ages entertained throughout the event.

Now that you've got an idea of how to plan an amazing birthday party in Cincinnati, let's move on to discussing ways we can wrap up our thoughts on celebrating birthdays in this city.
Wrapping Up Our Thoughts on Celebrating Birthdays in Cincinnati
Wrapping up our thoughts on celebrating birthdays in Cincinnati, it's clear that there is truly something for everyone. From studios offering creative activities to bowling alleys and arcades, discovering a unique and fun way to honor someone special's birthday is easy. For those that prefer a classier experience, outdoor pavilions, gardens, and country clubs offer plenty of options for a more formal gathering.

The only caveat about planning the perfect birthday celebration in Cincinnati are the crowds; during peak seasons such as summer and holiday times, venues can book up quickly. To avoid disappointment, plan ahead and book early. The same goes for catering and other services - be sure to schedule with plenty of time to ensure availability.

Finally, keep in mind that the best birthday parties are not just dependent on the venue - they also take effort from guests and hosts alike. Consider adding activities like group games or contests, inviting family members or other VIP guests of honor, or going above and beyond with decorations or special treats. With thoughtful planning and plenty of love, the sky will be the limit when it comes to throwing an unforgettable birthday party in Cincinnati!
Responses to Frequently Asked Questions with Detailed Explanations
What is the cost of a birthday party at a venue in Cincinnati?
The cost of a birthday party at a venue in Cincinnati will depend upon several factors, such as the venue's location, size and amenities. For instance, you can find venues that range from small meeting rooms to larger hall rentals for an all-inclusive price of around $250 per hour; however, if you want a more elaborate experience or need additional spaces or services such as catering, the total cost could be higher. The best way to determine the exact cost of your desired birthday party is to contact venues directly and ask for pricing estimates and packages.
What birthday party activities are available in Cincinnati?
Cincinnati is a great place for birthday parties, with a variety of activities and venues to choose from. Depending on your budget and interests, you can find fun entertainment like bowling, laser tag, arcades, mini-golf, museums, trampoline parks, and more. There are also a number of unique experiences offered in Cincinnati such as indoor skydiving, immersive theatrical experiences, escape rooms and many more. If the party is outside of the city limits, guests can enjoy paintball fields or ziplines. For the more traditional-minded party-throwers there are several excellent restaurants and rentals that offer catering options so that you can host a classic event without all the fuss. No matter what kind of celebration you're looking for, there's something to fit everyone's tastes in Cincinnati.
What safety protocols are in place for birthday parties in Cincinnati?
In Cincinnati, there are several safety protocols in place for birthday parties to ensure the health and safety of guests. The first is a maximum capacity limit set by local ordinances. All venues hosting birthday parties must abide by these limits to prevent overcrowding and potential spread of infectious diseases. Additionally, many venues offer contactless check-in via QR code or online registration tools to minimize contact between staff and guests.

Also, face masks must be worn at all times, with exceptions for those that cannot medically tolerate wearing one for physical reasons. Hand sanitizer stations are routinely available for visitors to utilize upon entry. Social distancing measures are also in place to reduce risk of contagion; this includes keeping tables six feet or more apart from other seating areas, as well as reducing access to common areas such as buffet lines or game areas.

Finally, all venues hosting events in Cincinnati must adhere to strict cleaning practices before, during, and after each celebration. This includes frequent disinfecting of high-touch surfaces and adequate ventilation when possible. These protocols help ensure the safety of everyone involved in the party, allowing parents and kids to enjoy their special day without worrying about their health or safety being compromised in any way.