The Best Party Rentals in Cincinnati
Let us deliver the fun AND peace of mind!
When it comes to party rentals in Cincinnati, Party Go Round is your go to spot. We understand that planning a party or event can be stressful and that you want everything to be perfect. You don't want to worry if the company you hire will arrive on time or if they'll provide clean party rental equipment. You're a busy person with a lot on your plate, and we understand that. Providing you with the peace of mind you'll receive when choosing Party Go Round is our primary purpose.

Since 2016, we have helped create memories and provide smiles for hundreds of families just like yours. We've also enjoyed the honor of being the trusted provider of fun for great organizations such as The Cincinnati Reds, Crossroads Community Church and countless others.

Get the Party Started!
Combo Bouncers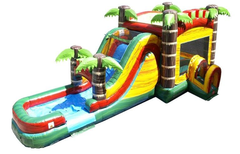 Bounce Houses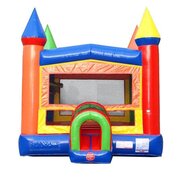 Current Specials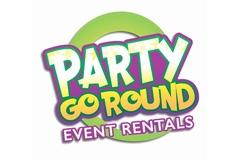 Obstacle Courses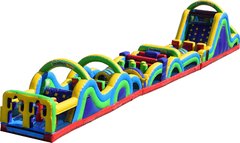 Inflatable Games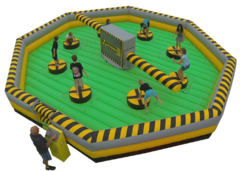 Inflatable Dry Slides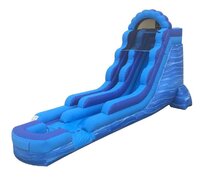 Carnival Game Rentals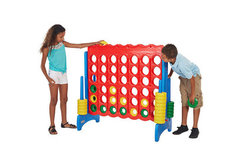 Concession Machine Rentals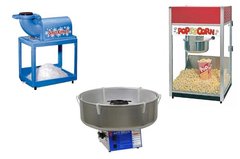 Rent A Dunk Tank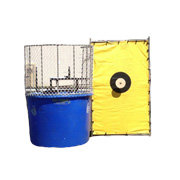 Party Packages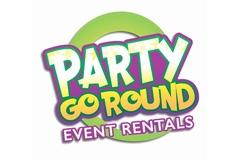 Add-Ons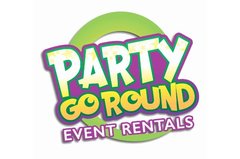 Water Slides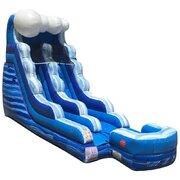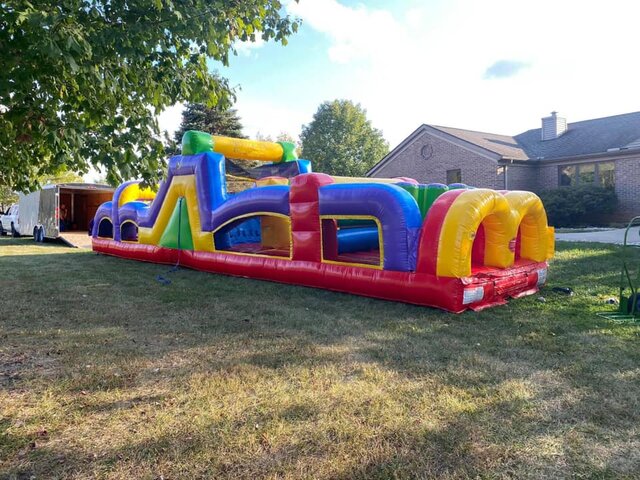 We're here to help you create memories to last a lifetime!
For the best party rentals Cincinnati has to offer, Party Go Round has just what you're looking for. Whether you're having a backyard birthday party, a graduation party, or a company picnic, we're sure to have just the fun you're looking for. Be sure and take a look at our obstacle course rentals page. From 31' all the way up to the length of a football field, we can accomodate small gatherings or huge events. We offer a wide range of inflatable games as well. From our QB Blits to our Carnival Games, you can round out your party or event to have something exciting for every age group. Here at Party Go Round, we've had the privelege of working with hundreds of customers in Greater Cincinnati from Mason, OH to Florence, KY and everywhere in between. Our solid reputation in the tri-state area is no accident. We pride ourselves on providing the highest quality rental equipment, delivered on time and professionally installed exactly as you pictured.
Check out our Bounce Houses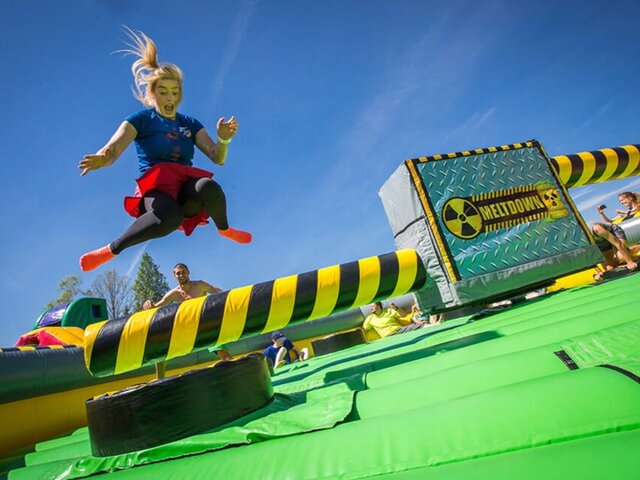 We have inflatable rentals and more for your party in Cincinnati and surrounding areas
When it comes to the best inflatable rentals Cincinnati has to offer , keeping everyone entertained is always important. Whether it's a backyard birthday party, a school field day, vacation bible school or even if you're looking for after prom activities, bounce houses and our other fun inflatables are always a great choice. With the best bounce house rentals the Cincinnati area has to offer, it's easy to find the perfect fit for your next party or event. Boasting the largest obstacle course rental in the Cincinnati area, Party Go Round proudly offers our 100' obstacle course. This baby is MASSIVE and can be seen from space! Also, 2019 also introduces our newest addition: The Toxic Meltdown! This incredible game is as much fun to watch as it is to play. A giant mechanical arm swings around and 8 players gather round and try to jump and duck without getting knocked off. The last person standing is then declared the winner. We also have a huge selection of water slides, combo bounce houses and even large games.
See The Meltdown In Action!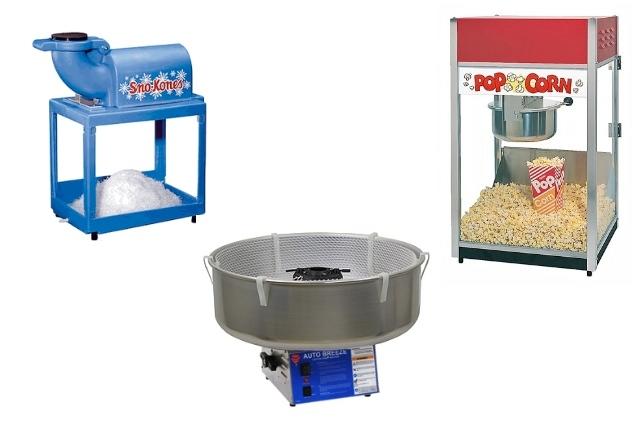 We have Cincinnati's best event rentals and concession machines!
In addition to tents for your next party, we also have a great selection of concession machine rentals. Choose from cotton candy, or sno cones. Take your guests on a trip down memory lane with the delightful smells of days gone by, remembering going to the local fair in a simpler time. Our concession rentals are perfect for fundraisers, back to school parties, company picnics or even after prom events. Your guests are sure to have their sweet tooth satisfied with some fluffy cotton candy. Hosting a movie night at your local community center or church. How about adding a little authenticity with the sweet aroma of freshly popped popcorn? Also, let's not forget about those humid Cincinnati summers. Our sno cone machine rental is a great way to keep your guests cool during the hot summer months. Oh, and did we mention the best part about renting any one of our great concession machine rentals? NO CLEANUP! That's right, we've got you covered. We know that hosting a party is stressful enough, so there's no need to worry about cleaning the machines. We would rather you spent that time with your guests and enjoying good company, while you let OUR company handle the rest.
Click here for some tasty treats!
Click below to explore more of the best event rentals Cincinnati has to offer.
Party Rentals In Cincinnati For Outdoor Events

Planning an outdoor party can be stressful. There is so much to think about, like what entertainment to have, what food to serve, and where all of your guests are going to sit. One thing we can't plan is the weather. There is nothing more disappointing than having your party washed out by rain. But does it really have to be? One way to keep the party going is to have a tent rental in Cincinnati. At Party Go Round, we have you covered! Our Pop Up Canopy tents are a great way to keep guests dry should a sudden shower make its way to your party. It covers 100 square feet to protect tables, chairs, and concessions. It also offers a great are to get out of the sun. You can use a tent or two to set up a dining area outdoors or to house our many concessions. Imagine having a tent with a cotton candy machine, snow cone maker, and a popcorn machine for all of your guests to enjoy.

Best Party Rental Cincinnati Has To Offer


Party Go Round helps take care of your party or event from the planning stage to cleaning up at the end. Our inflatable bounce houses, slides, and games will keep guests having fun. Our tents, tables, and chairs give them all an enjoyable area to sit, and our concessions offer great treats for all ages. Renting out tables and tents is also great for your fundraising and charity events, both indoors and outdoors. Our tent rentals are of high quality and our expert team will help you anchor your tents outdoors so that they are sturdy and safe. Not all parties take place in your garden. Things like big family reunions often take place in a large park. In situations like these, you definitely want to make sure you have adequate coverage for all of your guests should the weather turn a bit wet, or too hot. Our tents can house 2 tables and 16 chairs for guests to sit and relax. How many tents you will need depends on how many guests and whether the covered area is for sitting or standing. We can give you a hand finding the best party package to keep you and your guests covered.If your outdoor party is taking place in the summer, why not consider one of our bounce house and wet slide combos for the kids to enjoy?

One of the most important aspects of party rentals in Cincinnati is safety. You want the equipment that you rent to be clean and safe to use. This is why we take pride in our equipment. All of our equipment is cleaned and disinfected before and after use. We also regularly check our equipment to keep them maintained at the highest quality. Our focus is not just on fun but safety too. When you rent equipment from us you can rest assured that your guests are safe, allowing you to enjoy the celebration you planned so hard for. Let us be your go-to party rental place in Cincinnati!